From Miseducation to Incarceration
"From Miseducation to Incarceration"
outlines how ignorance of one's own cultural history contributes to making wrong choices, choices that often leave the Black man or woman incarcerated. Through the moving stories of Danielle, Tyisha, and many others, the reader will come to understand how entire lives, and the lives of family members, can be ruined with the stroke of a judge's pen.
This historic viewpoint of an elder will transcend and impact generations for the next thousand years chronicling the stuggle of Afrikan-Americans in the Belly of the Beast!
Brothers In & Out: A Collection of Selected Essays

"Brothers In & Out" is a collection of essays by those minds sharpened by the rigors of enduring years of torture and isolated pressure from a system of terror. These essays will take the reader into the world of incarceration as never before. A world which, until now, has not been revealed.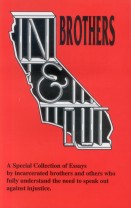 New Afrikan Criminology 101

The author of "New African Criminology 101", is not only locked down in this modern dungeon, he also makes use of this facility as a lab for much of his evidence in countering the flaws found in the Euro-centric definition of criminology in relationship to New Afrikan people. This text invites the student into the Afro-centric consciousness, and New Afrikan psychic.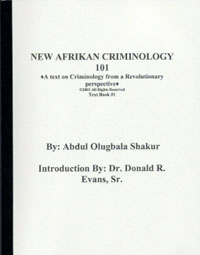 To order books, please contact Dr. Donald R. Evans, Sr. at (323) 755-6024